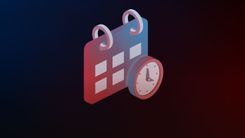 New week, new start – let's look at what potentially impactful events are upcoming! 📅
Zoom earnings report (Monday)
Zoom Video Communications will release its Q2 earnings report. The company's stock ZM.OQ is currently trading 25% below its year-to-date high, reached in February. It also has shrunk by 10% this month alone, so a better-than-expected report could result in a bump up.
Campbell Soup earnings report (Wednesday)
The soup maker Campbell Soup is currently down about 15% year-to-date. Analysts expect a decrease in quarterly revenue, however, they are also attracted to the company's stock low valuation. Watch out for CPB.N as the stock may experience volatility.
US Nonfarm payrolls (Friday)
Perhaps the biggest event Forex traders are looking out for is the monthly U.S. Nonfarm Payrolls update. NFP usually creates volatility around the U.S. dollar, for example, GBP/USD and EUR/USD currency pairs, SPX500 index, and Gold (XAU/USD).
A strong NFP figure is typically associated with a growing or strong economy as companies hire more people to keep up with growing customer demand.
A weak NFP figure could indicate an oncoming recession as companies lay off employees in necessary cost-cutting efforts.
For example, in the previous Non-Farm Payrolls on July 2, 2021, the US economy reportedly added 850K jobs in June, much better than the 700K expected. Immediately after the report, the Gold price shrunk by roughly 0,5%. This is because Gold trades inverse to the performance of the US Dollar.
That's it for this week!
Stay tuned for other market insights!