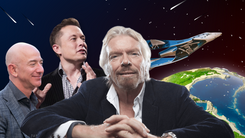 What would you do if you had amassed billions in assets?
Three of today's most popular billionaires have a common goal – to explore space. 🌘
We're talking about Richard Branson of Virgin Galactic, Jeff Bezos of Amazon, and Elon Musk of SpaceX. These guys are taking the popular-among-traders phrase "to the moon" quite literally. 🚀
🧑🏻‍🚀 Richard Branson
Richard Branson has been talking and dreaming about space travel for many years. However, he took the step into space on his Virgin Galactic spacecraft only last Sunday, shortly after Jeff Bezos had announced his plans for becoming the first billionaire in space.
🧑🏻‍🚀 Jeff Bezos
Jeff Bezos is planning to head to space on his Blue Origin craft on July 20 and will travel around 62 miles farther from Earth's surface than Branson. Bezos' new goal for space came to light around the time when news spread about him stepping down as Amazon's CEO.
🧑🏻‍🚀 Elon Musk
Although Elon Musk has already established the massively successful space travel company SpaceX with plans to "occupy" planet Mars and make humans an "interplanetary species", he hasn't yet announced plans on shooting himself away from Earth.
The effect on stock prices
While a CEO going to space doesn't have a direct impact on his/her business results, there certainly is a benefit of such stunts.
"If we are entertaining people, they would write stories about us and we don't have to spend on advertising which would reduce the price of our cars," Elon Musk said during the recent trial over Tesla's controversial 2016 acquisition of SolarCity.
And it's also the case with the recent Richard Branson flight. Just one day later, when everyone was talking about the flight, Virgin Galactic announced a sale of $500 million worth of the company's shares that led to a -17% fall for Virgin Galactic share price.
So, if there's one thing to note, be careful trading around breaking news as you never know if the company has a plan behind the stunt. 📊