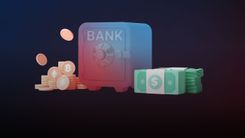 Similarly as it was with leading car manufacturing moguls and the acceptance of electric vehicles, banks were strictly against Bitcoin for a whole decade since its inception.
However, with the obvious boom going on during the last year, banks obviously understand there's no way back and that blockchain and cryptocurrencies may very well be the future.
Let's look at some facts that back up the claims above. 🔎
55% of the top 100 banks are into crypto
A recent study by Blockdata revealed that 55% of the world's top 100 banks (by assets under management) are investing in the crypto and blockchain space. Based on their study, directly or through subsidiaries, at least $3 billion in total have been already exposed to cryptocurrencies. And considering the size of the top 100 banks, $3 billion is like a drop in the ocean, which may leave a lot of room for further investments.
Deloitte Survey: "Banks Must Embrace It"
Another recent study by Deloitte revealed that, quote, "73% of senior executives at financial institutions fear their companies will fall behind in terms of development if they fail to adopt virtual currencies and blockchain technology. 76% believe that digital assets will replace fiat money in the next 5 to 10 years."
If more than 70% of senior financial executives chip in on the idea of cryptocurrencies, there's probably no reason to believe anyone who popularizes the idea of Bitcoin going to zero and being a scam.
JPMorgan & Wells Fargo launch Bitcoin Funds
Last but certainly not least, recent news just revealed a stunning development – JPMorgan (world's No.1 biggest bank by market capital) and Wells Fargo (world's No.6 biggest bank by market cap), are launching Bitcoin Funds.
The case with JPMorgan is specifically interesting, or even ironic because the bank's CEO Jamie Dimon has a long history of claims such as "Bitcoin is a terrible store of value", "Bitcoin will not survive", "Bitcoin is going nowhere", and "I don't really give a sh*t about Bitcoin." These are only a few to recall for example.
So, if even the most prolific denier of Bitcoin is creating Bitcoin Funds, there may be a general excitement of what the future holds for cryptocurrencies. Stay tuned for the next market insights! 🙏